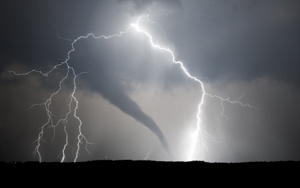 The EF3 tornado on March 2 that damaged more than 130 homes in Paulding County is the first severe storm of the year and an early spring season means you should be prepared. There are many resources available to Georgians but first and foremost the Ready GA state campaign is the most comprehensive resource. The Ready GA website offers everything that you need to prepare your home and family for severe weather this year. Take the time to make an emergency plan and prepare a home emergency kit. According to GEMA's Ready GA plan You should have the following items in your emergency kit:
•First aid kit and essential medications.
•Non-perishable food and can opener.
•At least three gallons of water per person per day.
•Protective clothing, bedding or sleeping bags.
•Battery-powered radio, flashlight and extra batteries.
•Items for infants.
•Special items for elderly or disabled family members, such as extra eyeglasses, medications, insurance information and items for service dogs.
•Written instructions on how to turn off electricity, gas, and water if authorities advise you to do so. (Remember, you'll need a professional to restore natural gas service.)
The Ready GA website can also tell you what to do when severe weather threatens, such as monitoring your weather radio and moving to the lowest level of the home when a tornado watch is issued. You can visit the Ready GA site to create an online profile to ensure they have the right emergency plan in place. If disaster does strike, many times an Atlanta generator rental company can help restore order and there are even portable air conditioner rentals available.
Stay safe this tornado and hurricane season!