Located only 20 minutes west of Atlanta, Douglasville and Villa Rica real estate offer unparalleled value and an enviable quality of life. The entire West GA area enjoys a less frantic pace than many other Atlanta suburbs, resulting in less traffic and a significantly lower median home price. I am proud to offer you the most information available about Douglasville, Villa Rica, and the entire West GA area and have made a significant investment to bring you the latest home search technologies in an easy-to-navigate interface. Enjoy the site and please allow me to answer any Georgia real estate questions you may have.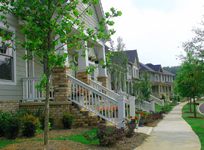 Douglasville and Villa Rica GA offer many great communities to match every lifestyle. Golfers will find that Mirror Lake GA, The Georgian, Chapel Hill, and Fairfield Plantation provide many other amenities in addition to their beautifully manicured golf courses. Families seeking swim tennis communities will feel right at home in Brookmont, Riverwalk, Tributary GA, or Mirror Lake Villa Rica.
The recent Douglasville real estate downturn has left us with a volatile market and little inventory. Douglasville Foreclosures and short sales are not as prolific as they were. It is somewhat a seller's market but prices are not yet back to where they once were. Buyers are becoming frustrated with the lack of available homes on the market and must act quickly to secure a home they wish to purchase. Contact me today to help you react as quickly as possible to this fluid market, in many cases a home must be shown and the contract written within the first day it hits the market.
Douglasville & Villa Rica's Expert Real Estate Agent

Combining 20 years of real estate experience with cutting-edge web technology, I provide my clients with the most information available coupled with seasoned professional advice. Specializing in Douglasville homes for sale as well as Villa Rica and West GA gives me an intimate knowledge of the rapidly-changing local market. As a top-producing agent I am extremely familiar with the current inventory of homes, chances are that I recently viewed the home you are interested in and can tell you what's going on with the neighborhood, who the builder was, and what kind of track record he has. Read my Douglasville Real Estate Blog for the latest local info. For easy search options view our sitemap.
I can show you any West GA or Atlanta area homes for sale listed with any company. Most people are aware that the Atlanta area is served by two MLS systems, but very few know that there is a third MLS just for the West GA markets such as Carrollton GA real estate and Bremen GA. As a member of the Navica MLS, I can search and list homes in these areas that many Douglasville real estate agents cannot. Contact me to find property in these areas as they may not come up even on searches done on this site. Please let me know if you need assistance finding an Atlanta mortgage.
Sell Your Douglasville or Villa Rica Home
We are currently experiencing a shortage of homes for sale. Sellers can take advantage of this opportunity but must price and stage their homes correctly to get the most benefits. Expert local market knowledge and aggressive marketing will help you to secure top dollar for your home, an MLS listing and a sign in the yard just won't cut it.
Today's buyers are high-tech, so a Douglasville REALTOR® without a comprehensive website and top search engine rankings has very few tools at their disposal. My full-time marketing director ensures that your property will have the highest level of visibility possible to potential buyers. Request a FREE Comparative Market Analysis for your home to find out what it's worth in today's market and I'll be happy to discuss how we can position your home to sell quickly for the most money possible.
Visit Home Seller Services to learn more about my exclusive online marketing arrangements and About MaryAnn to learn more about my philosophy and the team I personally employ to leverage this technology.
Just call 770-891-3314 or
CONTACT ME
today for more information about any West GA homes for sale or to list your home. I can also conduct a FREE, detailed professional home search or CMA for you using tools only available to agents.
New Douglasville Home Listings